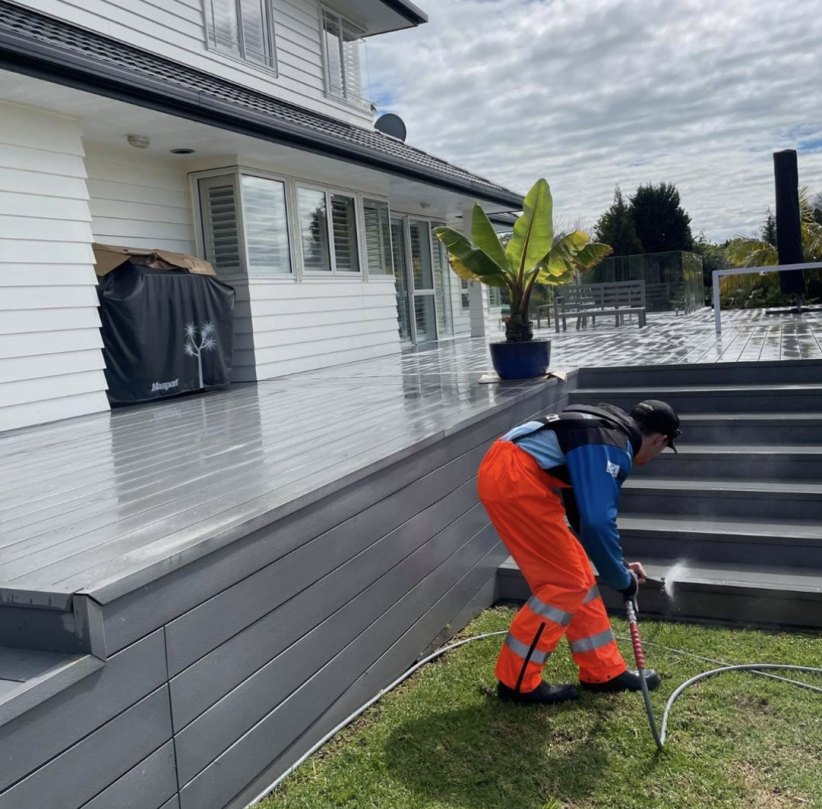 17 Oct 2021
We live in the golden age for consumers right now—they are more educated and have more opportunities and choices in the property maintenance and general consumer market than ever before.
We know this and we work hard to differentiate ourselves from our competition so you know you're getting a great service at a great value.

As you consider investing in having your roof cleaned or your home washed, consider these top ten reasons why you should work with Wash Rite:

The Top 10 List





Exceptional Customer Service

Customer Service is usually seen as an afterthought by most service-based companies. When you hire the Wash Rite team to come out and wash your home or soft-wash your roof, clean your gutters or make your windows shine, you can trust that we're putting you and your satisfaction first. We understand it's easy for companies to say they care—our testimonials speak for themselves, we think.



EcoFriendly and Eco-conscious Material Choices

We've taken the time and effort to learn how to use the most eco-friendly and eco-conscious materials on the market. We do this for a few reasons, primarily because we care about our environment and our planet and we believe every business has a responsibility to do the job with that in mind. We make it easy to make the right choice.



Quick Turn-Around Times

Life moves fast and so do we-we make sure that every job is done right the first time around while being as efficient and effective as possible. Our crew is highly trained and ready to go when we arrive on-site.

Community-Focused

As a New Zealand-owned and based company the person doing the job is most likely going to be the owner of the Wash Rite franchise, and we believe in supporting and helping our community grow and flourish this is shown by the sporting teams, community organizations, and local heroes we support and sponsor. By supporting your local house washing and roof-washing company near you, you can help invest in your community and continue to make New Zealand a great place to be.



Experience & Size

Not to brag, but we at Wash Rite are pretty proud to be the largest exterior cleaning company in New Zealand but to top that we are even prouder to be the largest exterior cleaning company in the southern hemisphere. This means we have the recourses and the first-hand experience to ensure your job is done RITE the first time.



Variety of Services

We specialize in soft-washing of houses, commercial building washing, roof cleaning, deck and cleaning, window washing, and many other home care services. Think of us as your one-stop shop when it comes to keeping your home beautiful and well-cared for all year long. We also work on commercial and industrial properties so you can keep your tenants, employees, and building happy and healthy.



Professional Team

The Wash Rite team is trained and insured. We're not one of those fly-by-night companies that want to swoop into your neighborhood and then disappear when the job is done. We're here, we're local, and we invest in our team by making sure they're trained and ready to go. Wash Rite and all its franchises are proud members of the ECIA (exterior cleaning industry association ) and are one of the founding members.



Results Focused

If you haven't seen some of our 'before and afters', we highly suggest you take a look so you can see the Sparkling Clean difference yourself. We've helped save homeowners thousands of dollars just by coming in and helping them get their roofs or building cleaned. A well-maintained building lasts longer and requires less maintenance.



Guaranteed Satisfaction

We stand by our work and the services we provide. For example, if you book us to come out and do a window washing session at your home or commercial property, we offer a "streak-free" guarantee. If it rains or if you see smudging or streaking after our job is done, we'll come back and fix it for free.



Free Estimates

Who doesn't love a free estimate? While they may seem to be industry-standard these days, other companies often have a catch. At Wash Rite, free means free—which means you can trust that we'll come out and give you an accurate, reliable, estimate for you to review and take action on when you're ready. We believe in long-term relationships and we know that that starts from day one.

If you've been considering getting your house washed or think you might need your roof cleaned, give us a call. We'd love to chat with you about it and see if we're the right fit for the job. You can even try your luck and as your local Wash Rite franchise to throw in a free lawn mow with our sister brand Lawn Rite at www.lawnrite.co.nz
Reach out–we look forward to working with you!
Link:
Check our more information on House Washing with Wash Rite