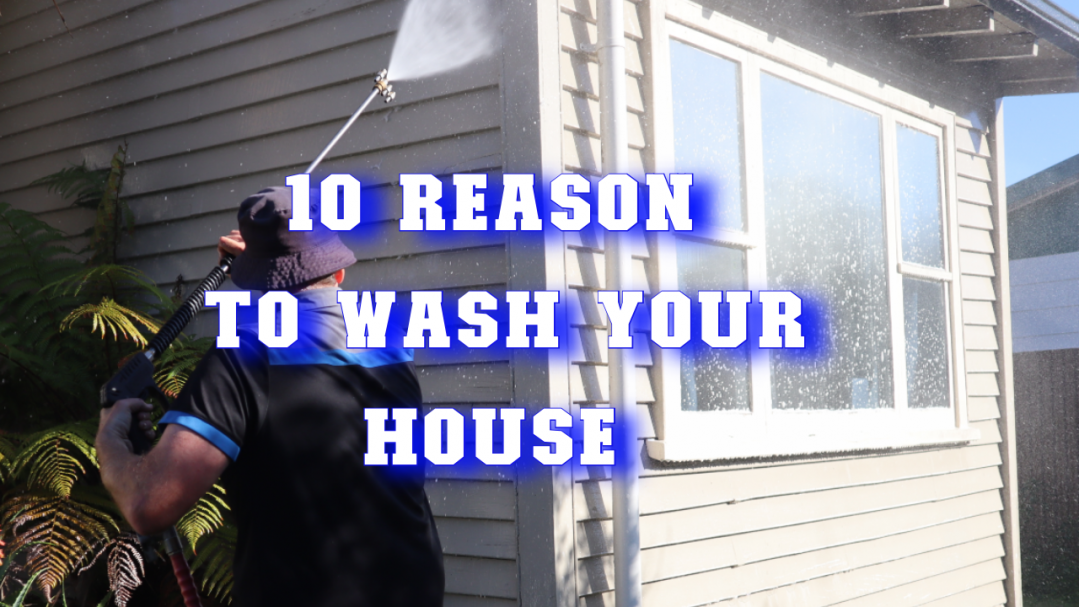 17 Jul 2021
Washing your home could seem like an extravagance if you're not aware of the benefits, but in reality, it should be a part of every homeowner's maintenance plan to ensure they retain and ideally grow the value of their house.

Your home exterior is exposed to harsh elements of New Zealand weather; that's its job! Mother nature's weather conditions like sun, wind, dirt, ultraviolet rays, insects, birds – not to mention things like acid rain, smoke, pollutants, and car or truck exhaust – constantly take a beating on your home and contribute to its deterioration.

Washing is the most effective and efficient way to clean your home's exterior and safeguard your investment, your time, and your family's health.

#1. Washing Prevent Premature damage

Moisture and shade throughout Autumn and winter can cause serious damage and stains to your home's exterior cladding. If you allow the organic growth to stay on your exterior cladding, or the stains to sit for long periods of time, permanent damage can result. Mold damages painted surfaces and concrete coatings like cool concrete if left unchecked for long periods of time. Mold actually feeds on the paint and finishes, therefore, removing them.
Crevices are especially susceptible to the accumulation of dirt, algae, and grime, while mildew and mould thrive in shaded areas and can grow unchecked for years if not properly taken care of.
Additionally, the New Zealand sun beats down harshly year around, discolouring and wearing away outside surfaces. Washing removes dirt and grime and prevents them from turning into permanent damage.

#2 Maintenance Will Save Money

Buying a house is a big investment that needs to be protected. The price of any sort of maintenance in addition to a mortgage and other bills can seem hefty if you don't think of it as necessary maintenance that safeguards your initial investment and saves you a lot of money down the road.
A little preventative maintenance can go a long way towards keeping your house value and avoiding costly repairs. If the house you own is rented out you might have legal obligations to wash your house and to keep it clean and healthy under the new healthy homes legalisation. By making house washing a part of your consistent maintenance routine, you can take years off of an older home and keep it looking new for years to come. It's also the most cost-efficient way to wash your entire exterior.
Plus, house washing is actually a lot less expensive than refinishing or repainting. If you are repainting, however, washing is a critical first step for getting your house ready. To find out just how affordable it really is give your local Wash Rite a call for a free quote, you will be pleasantly surprised.

#3 Washing, Primes The Surface

If you are planning to do touchups, resurface, or repaint the exterior of your house cladding, washing is the perfect way to prepare and make sure that your existing surface is ready for its new look paint. By removing all the dirt and grime, you ensure that you have a clean, smooth surface on which to paint. The same goes for re-staining your deck or refinishing your pool – washing first ensures that surfaces will hold on to their new finishes. Any coating you apply on a surface is more likely to fall off if you don't properly remove old paint, dust, chalk and mildew.

You will notice all professional painters wash the house before painting, this is one of their secret tips to ensure a great prep job is done to ensure a great quality finish is achieved. If you want a professional quality paint finish then get an expert to wash your house 24 to 48 hours prior to painting it. It will be the best money you could spend.

#4 – PROTECTS YOUR AND YOUR FAMILY'S HEALTH

Speaking of dust and mildew, these things could not only be affecting your home's appearance but your family's health as well. All the dirt, grime, mould, mildew that accumulates on your home's exterior surfaces can be dangerous. Removing them yearly with washing helps keep you and your pets from getting sick. One of the active ingredients in a professional exterior cleaning company's soap mix is Sodium Hypochlorite which is commonly known as bleach or chlorine which we all know is an amazing sanitizer and disinfectant.

More than 1 million adults and half a million children suffer from seasonal allergies in New Zealand According to the Ministry of Health NZ, some of the most common allergic triggers are pollen, mould spores, and dust mites, all of which are washed away by house washing.
Springtime, when allergens run high, is the perfect time to include your home's exterior into your spring cleaning. washing the exterior can reduce the number of allergens in and around your home, and reduce the time your family spends coughing, sneezing, and with watery eyes. Our soap solution removes allergens, kills algae and fungus, and protects against harmful bacteria.

#5 – IT'S ENVIRONMENTALLY FRIENDLY

Our solution is not only gentle for your family but environmentally friendly as well. At Wash Rite, we pride ourselves on being as eco-friendly and responsible as we possibly can be. All of our cleaning solutions are non-toxic and safe for pets and children. All of our washing techniques are also safe on your grass, plants, and other shrubberies around your home.
We're ECIA (Exterior Cleaning Industry Association ) Water-efficient operators, which means our crews are trained and certified on water conservation and our detergents are biodegradable but still tough enough to remove all mold, mildew, dirt, and debris. Other cleaning methods such as hand cleaning and spot solutions usually need to be harsh in order to do the same work that washing achieves through water volume and technique.

#6 – LOW-PRESSURE HOUSE WASHING SAVES TIME

Low-pressure house washing is simply the most efficient way to clean your home's exterior and or roof. Your time is valuable, so efficiency is key when it comes to cleaning. Letting professionals like Wash Rite wash your home means you don't need to deal with mixing cleaning solutions, climbing ladders, and scrubbing strenuously at stubborn stains. We can accomplish in minutes what would take hours by hand. Our team of professionals at Wash Rite will take care of your entire cleaning in just one visit. Take a load off, and let us deal with the dirt!

7 – RESTORES CURB APPEAL OVERNIGHT

House washing is a restorative process. Your house gets a makeover without you having to spend a lot of money on renovations. By removing years of stains and baked-in dirt, low-pressure washing refreshes your house's look and turns years back on the clock to help your home look brand new. It doesn't make sense to spend money on landscaping and decorations if your home's exterior is not part of the effort. No matter the surface, washing your home is the best way to get rid of mould, mildew, and stains on your home's siding, driveway, deck, and fencing. A fresh look is a great way to feel pride in your home and is a way to contribute to your neighborhood's community. We all want to have the best house on the street and there is no better way to get that than a house wash and roof wash, All your neighbors will be jealous of how amazing your house looks, There is also a no better way to boost your house value just before you sell.

#8 INCREASE YOUR HOMES VALUE

If you're looking to sell, washing could be the difference between making a sale and not. Exteriors degrade, discolor, and oxide as time passes. Because of this, your property can lose value or not rise in value as fast as your neighbor's homes do. Washing helps a fresh-looking paint job take, making it free of peeling and chipping and it helps your home look new on its own.

Obviously, a good-looking house is much easier to rent or sell at a higher price.
According to the many real estate agents Wash Rite works with on a daily basis a good house wash can lift the value of the house by $10,000 to $20,000 and can bring buyers to a house who may otherwise not of been interested as a dirty house will scare them off with thoughts of big-dollar repairs or renovation needs.

#9 INSURANCE REQUIRMENTS

Many homeowners either don't know or have not been told that many insurance companies will void your home insurance if you neglect reasonable maintenance. Since your house does not become covered in dirt, mould, and mildew overnight, the damage it caused is seen as preventable. This means if you don't wash your home and there is an issue years later your insurance company can and often do decline your claim.
As stated previously, a low-pressure house wash will protect the exterior of your house.

#10 CLEANER IS SAFER

We all know that good health and safety systems are important these days, By washing your house and even your commercial building will prevent those shaded pathways from turning green and slippery or those back steps from becoming a safety hazard.

Dirt and grime build-up provides the perfect breeding ground for bacteria and vermin, which are notorious for carrying diseases. And, if the damage is allowed to spread, it can leave the interior of your building vulnerable to spores that can cause illness.

Take Advantage of the Benefits of House Washing Today

When you're ready to act on the benefits power washing brings to your home and life, our team at Wash Rite Exterior Cleaning is here to help. Low-pressure washing can be risky to yourself and your property if not done correctly. Let the professionals at Wash Rite House Washing in New Zealand make your house look new.

Link:
CLICK HERE FOR A FREE QUOTE